In June 2010, we started on a much anticipated 22 day – 22 state, coast to coast vacation – a 10 year dream about to be fulfilled.
We started from Richmond, Virginia and our first leg of our vacation took us to Chicago were we visited with old friends Satish and Laxmi.
After a day of exploring Chicago, we joined with Satish and Laxmi for an evening of prayer where God revealed to us His special plans for our trip. We were inspired to pray and intercede for this great country as we drive through the land. Thus our first prayer drive was born! As written in 1 Tim 2:1-4, the four of us prayed and interceded for the people and the government of each state we drove through.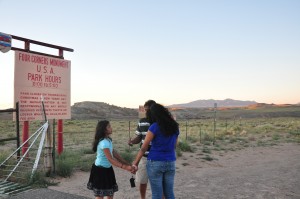 After 20 days, we concluded the most memorable vacation, not fully realizing what God had begun in our lives.
The next year, God used us to organize the intercessory retreat 'RIChFIRe' in Virginia and launch 'Prayer Drive 2011'. Intercession and prayer drives have become our passion and we are excited to see what God has in store for us in the future.
– Suresh Veeravalli