Arise, walk in the land through its length and its width, for I give it to you. Genesis 13:17
The first leg of the prayer drive started from Virginia Beach, VA. The team travelled and prayed through Washington DC, Maryland, West Virginia, Pennsylvania, Ohio, Indiana and ending at Chicago, Illinois.
Prayer Drive Teams
Day 1: (from left to right) Hepsibah , Hilda, Sharon, Thomas, Augustine, Vishwanand, Manuel, Mano, Lakshmi, Shekinah, Suresh, Joshua, Satish
Days 2-6 (from left to right) Vishwanand, Peter, Aksa, Smarna, Joshua, Sharon, Stanley, Josaiah, Joanna, Lakshmi, Satish, Suresh, Deepthi, Thomas.
Prayer Drive
Day 1 – Virginia: Prayer Drive 2011 started with prayer at Cape Henry Memorial Cross, the site where the pilgrims prayed as their first act in the new world. We drove next to pray near the first settlement at Jamestown. The third stop of the day was at the second official settlement, Henricus. We visited the site of Lumpkin's Slave Jail in Richmond and later prayed at St. John's Church where Patrick Henry delivered the 'Give me Liberty or give me Death' speach. We concluded the day with prayer on Church Hill in Richmond.
Day 2 – Washigton DC: The team travelled to Washington DC and prayed at the Arlington Cemetery, the White House and on the streets of the city. Later that evening we met with pastor Rufus and the Telugu Christian Fellowship Church in Sterling, VA for a time of teaching and prayer. At the end of an exhausting day, the team enjoyed warm hospitality and a good night's rest in the home of Sukumar and Anna.
Day 3 – Maryland, West Virginia and Pennsylvania:
Starting out from Washington DC, we stopped at a rest area in Maryland to pray for that state. We then entered into West Virginia and prayed at the welcome center. We were welcomed into Pittsburg that afternoon by Pastor Mark Geppert and Pastor Prabhu Issac. Later that evening, we enjoyed a time of worship and prayer at the New Life Fellowship Church pastored by Christopher Mays.
Day 4 – Pennsylvania and Ohio: Day 4, started with prayer at the Korean church pastored by Young Cho before heading out with other intercessors from the Pittesburg to prayed over the spiritual stronghold in the city. Later that afternon, we travelled to Columbus, Ohio and met with Karthik and Ranjani. We joined a local christian fellowship for an evening of worship and prayer.
Day 5 – Indiana and Illinois: The team travelled to Indianapolis where we reconnected with old friends, James and his family. We enjoyed a delicious South Indian lunch at their home and spent time interceding for the state of Indiana. We then travelled to Chicago and met with one of the local churches to pray for the city.
Day 6 – Chicago: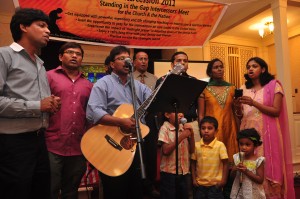 We concluded the prayer drive with an all day seminar on intercessory prayer in Chicago. Rev. Thomas Samuel and Bro. Viswanand from United Prayer Movement for Nations, India brought teaching on Prayer and Spiritual Warfare. We concluded the evening with the church joining together for an extened time of prayer for the nation.